Indian spices – the best way to stay healthy!
Explore the Indian Spice Box! The spices we use in our kitchen are actually medicinal sources to treat different ailments! Each spice has immense anti-inflammatory, antibacterial and antiseptic properties. Here's a list of some popular spices that are used daily: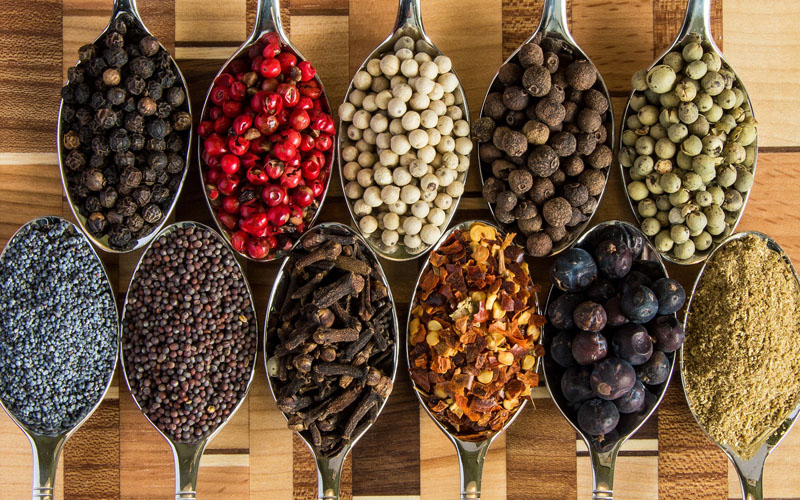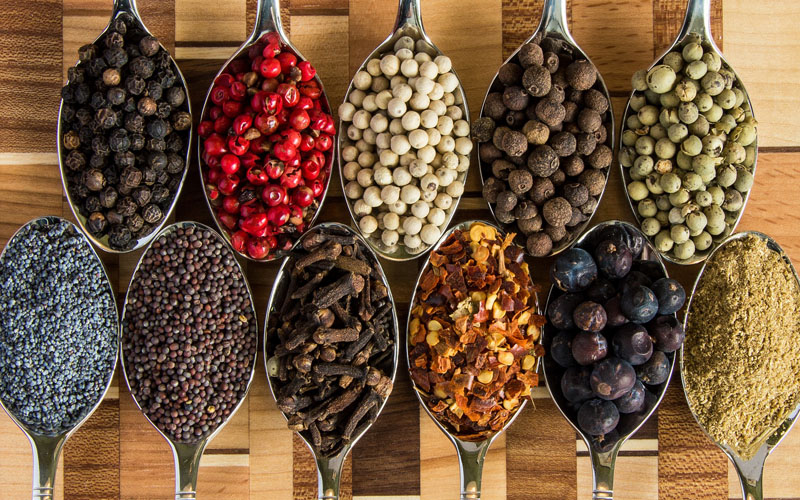 Cardamom
Cardamom mostly used in Indian sweet dishes like Kheer, and even in tea has a very distinct flavor. Ayurveda recommends it for curing bad breath, digestive system disorders, acidity, gas, and flatulence.
Cinnamon
With a very refreshing flavor & looks like a bark of a tree Cinnamon is used to flavor spicy Indian curries & Biryani. Gives relief to patients with Diabetes, Diarrhea, common cold, Menstruation tension, and weak blood circulation.
Black Pepper
The main ingredient for garnishing, Black Pepper also helps in fighting and curing cough, cold, mild Anorexia and muscle pain. It aids in digestion and muscle pain and also has diuretic properties.
Cumin
Used as a flavoring agent in rice, Indian curries, Dal and Lassis, the Cumin seeds keep our immune system healthy. The fibre content in these seeds has antifungal and laxative properties. Cumin also helps in fighting flu, cures Anemia and digestive disorders.
Fenugreek
Many Indian dishes have Fenugreek seeds and powder as a key ingredient for their nutritious value, slightly sweet, nutty taste. Fenugreek is also used in Ayurvedic medicine.
Mustard
Mustard seeds or oil rich in omega-3 fatty acids, zinc, calcium, iron, B-complex vitamins, vitamin E, etc. are used in almost every Indian home. It keeps the bones and teeth strong. It is also used in tempering delicious dishes in Indian cuisine.
Star Anise
An exotic spice used in Asian cooking Star Anise is rich in antioxidants and vitamin A and C. It will help reduce early ageing and diabetes. It also helps improve digestion, alleviate cramps and reduce nausea.
Clove
Since ancient times Clove has been used to cure toothache and sore gums, digestive problems, cough, and cold. Clove is also used for seasoning and preparing garam masala.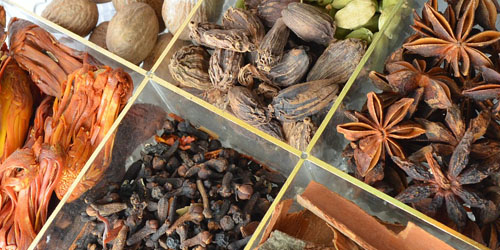 Nutmeg
Normally used to flavor cakes and other dishes, Nutmeg is a popular spice which relieves pain, indigestion, insomnia and improves brain function. Nutmeg also improves cholesterol levels, relieves depression, regulate BP levels, and alleviate dental conditions.
Nutmace
With a delicate flavor, NutMace is often preferred in light dishes for the bright orange, saffron-like color it imparts to the dish. You can get relief from nausea, gastritis, and indigestion ailments.
Use Indian spices & stay healthy!