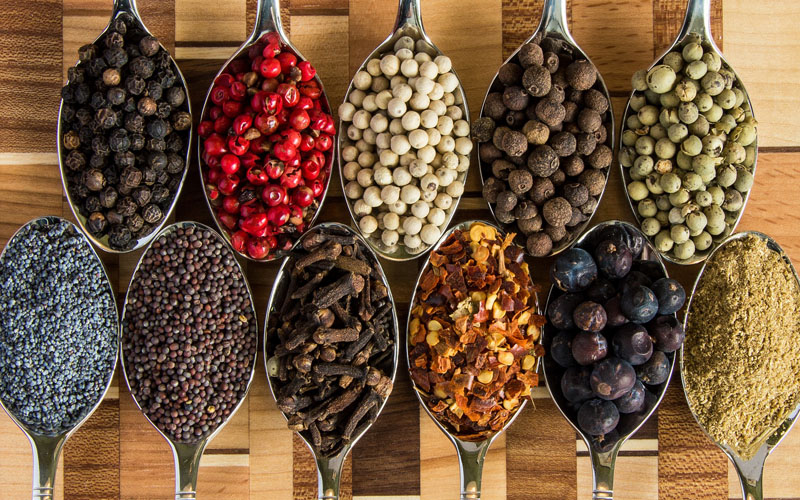 Today's Munnar, the effigy of Kerala tourism was once the desired summit of the whilom English Regents in their Colonial Epoch. It was the English ingress that unveiled Munnar's unexplored and untouched richness to the outer world. The explored Munnar named in tribute to the
confluence of rivers Muthirapuzha, Nallathanni and Kundala is a perpetual journey through the wild nature where we perceive the beauteous valleys and mountains, myriad species of plants and animals in its sanctuaries and forests. This destination delights the senses and
brings an emotional admiration in every visitant of Munnar. The nature's abode is an Eden for tea, coffee and spices besides homemade delicious finger licking chocolates.
Spices are sought after and used all over the world by virtue of its diversity and traits in culinary and remedial powers to restore good health. One who is ingenious can use it, if its benefits are observed probably as a beauty ingredient besides a savoury component. This is the delectable reason why traders from around the world lured to the verdant land of spices in Kerala. "Spice Munnar" a comprehensive spice dealer commenced its trade in the year 2011 supplying feature marked organic products of spices and tea-coffee beverages in wholesale
and retail.
Shopaholics enjoy our assorted varieties of stimulant health teas, coffees, sweet delicacies, and spices such as cardamom, pepper, nutmeg, clove, cinnamon, ginger freshly plucked and processed in the grown land. Our customized decisive plans in assistance to client requirements helped us benefit a great number of customers. In view of the fact that Munnar is fortunate with innumerable resorts and hotels within the luxury and budgeted stay, we in the interim winged extended credibility in hospitality sector operating as "The Spice Country Group of Resorts." Conjointly, we have taken forward The Dream catcher plantation resort, Bracknell Forest, Madhumanthra resort all located in Munnar. Each of our properties is unique and qualitatively refined in elegance bound to ingenious simplicity.