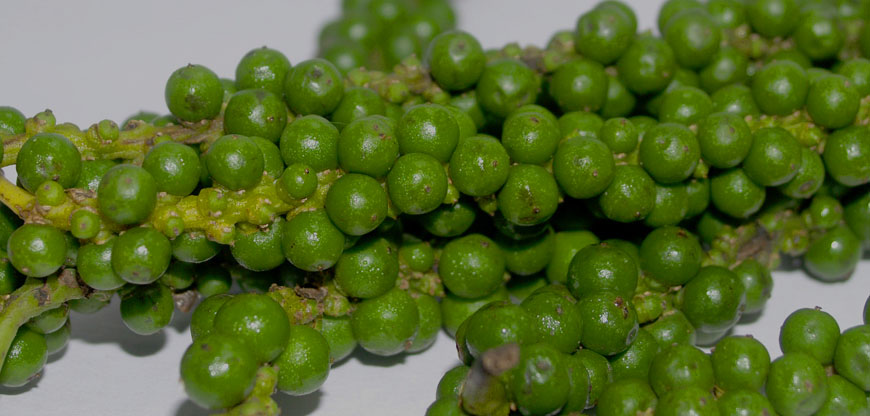 Black pepper is almost as universal as salt. It is a spice that is highly valued and much loved around the world. Amongst the pepper varieties, the black pepper from the high ranges of Kerala is amongst the most loved and preferred. It is this superb quality pepper that you can buy online at spicemunnar.com.
Pepper is used as a condiment and is constantly used in traditional medicine to make cures for a variety of issues like diarrhea, joint pain, infections etc. Pepper grows on vines that cling to areca nut and coconut palms or trees on plantations in the high ranges of Kerala. Here they are fed by two monsoons and take their nutrients from rich forest soil of the mountains.
Pepper appears in grape-like clusters of berries on the vines and is harvested by handpicking them. Indian pepper is definitely considered the best in the world. The best quality pepper is found graded and in a consistent size, color and flavor. They are blackish, dry and crisp. It is the dark outer skin of the pepper that is hotter and has more oil. The best way to store the peppercorns is to store them in an airtight container in a cool dry place.
The two varieties of pepper from Kerala – the Malabar pepper and Tellicherry pepper are getting their Geographical Indication (GI) status. This means only the peppers from that region will be known by those specific names. It will be an indicator of quality and piquancy of the pepper.
Though there are various types of peppercorns like green, black and white, they are all from the same peppers. The green ones are raw, the black peppers have been dried in the sun or machine dried and the white ones have their outer skin removed. The white pepper is preferred for its milder taste and the green peppers are good for pickling. However, the universally loved pepper is the black pepper we are all familiar with our salt and pepper. Pepper transforms our fried eggs, our curries and our biriyanis into something special. It is simply the one spice we always want – which is why you should immediately order the freshest pepper from spicemunnar.com today.