Indian spice box or Masala Dabba – A very essential, very functional must-have in almost every Indian household kitchen! While making curries, you need to open quite a few containers to get the required whole spices. It is tiresome & the oil gets heated up while you are still finding the spices.
The Indian spice box makes everything easy for you! The spice box is stainless steel flat container or Dabba with a tight-fitting lid to store the spices. Keeping a traditional Indian spice box makes you more efficient in the kitchen.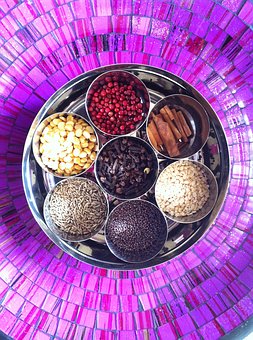 What should you put in your Indian Spice Box?
You can buy Indian spices online and fill up the spice box with spices which you are using in your daily cooking. If it's North Indian food, you must put Garam masala and Amchur, if it's South Indian food, better add Urad dal & Chana dal into your Indian Spice Box. The other common spices are:
Mustard seeds

Cumin seeds

Turmeric powder

Red chili powder

Coriander-cumin powder
Cooking Indian Pulaos and spicy Indian curries need spices like:
Cloves

Cinnamon stick

Mace and nutmeg

Dried red chilies

Green cardamom and black cardamom
Bay leaves, as such will not fit in the Indian Spice Box and should be kept in a separate container.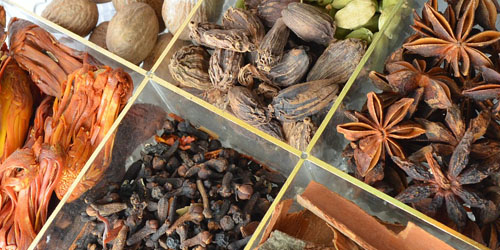 A few tips for your Indian Spice Box
Store your masala

Indian Spice Box

in a cool, dry space which is near to the stove so that it is easy to reach out when in a rush.

Always fill the spices as per the usage. Less quantity of Mustard, Cumin and Turmeric powder compared to red Chili and Cumin-coriander powders.

Never fill to the top.

Keep the Spice Box away from moisture.

Always keep it a little away from your pan while tempering dishes so that it doesn't spoil from heat or oil sputtering on it.
Make your cooking a breeze with the Indian Spice Box as you will be able to find all the spices you need in one place! Buy your spices online at the Spice Munnar spice store, the best spice store in India!