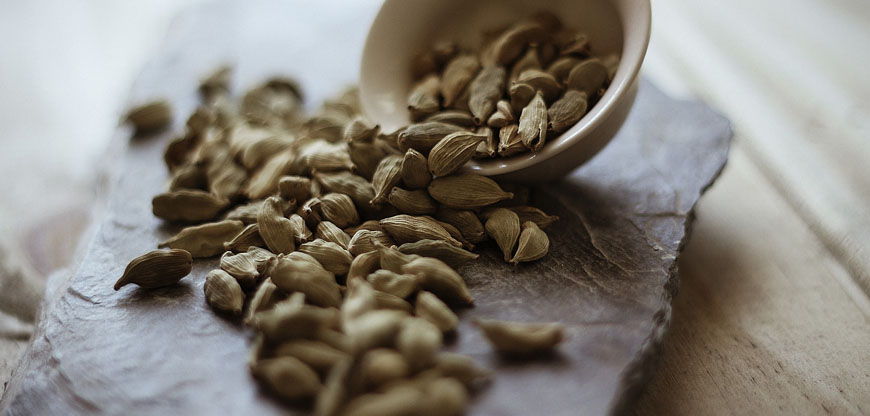 Cardamom, the 'queen of spices' is cultivated in abundance in the high ranges of Kerala is the most widely used flavouring and spice in the preparation of food, confectionery and beverages. It is used in Middle Eastern countries for preparing their favourite cardamom flavoured coffee called 'Gahwa'. Cardamom is widely used in traditional Indian cooking for making fish and meat dishes and is used as an ingredient in garam masalas.
There are generally two types of cardamoms. The green (true) cardamom or also called small cardamom. And there is the large cardamom or black cardamom. Cardamom has a strong spicy and aromatic taste and flavour. Cardamom oil and oleoresin is used in Ayurvedic medicines and in processed food products. It is very rich in many vital vitamins, including riboflavin, niacin, vitamin C, which are essential for health. Cardamom Pods are used in the treatment of depression, mouth ulcers and digestive problems.
Cardamom is also used as a mouth-freshener, especially by smokers. Cardamom has many wondrous health benefits. It is beneficial for eradicating colds, coughs, piles etc. It helps improve blood circulation and is used in providing relief to acidity, stomach-ache etc. Cardamom drinks help burn fat and reducing cholesterol levels. It also helps fight water retention problem by increasing the urine output.
Cardamom plays a key role in Ayurvedic medicines. It is used in the treatment of dental diseases of the gum, provides gastrointestinal protection, is used in cancer control and helps cure urinary tract infections. In home remedies Cardamom was used in preparing antidotes for various venoms and poisons. Green cardamom pods are commonly used in making payasam (sweet rice pudding), kulfi ice cream and traditional sweets. Flavouring of tea with this spice is very common across India and the world. Cardamom protects the body against free radicals as it has antioxidant properties. It serves to reduce heart issues, helps relieve blood pressure and is beneficial to the health of the skin.